Day 4, 09.05.04: Halovo, in the garden
Sa, 15. Mai. 2004, 19:05
"Idemo", Jovanka calls, "gemma, gemma, let's go." It's Sunday, it's sunny as it has to be on a Sun-day, and the family is off to the "garden". Do you expect a little white house with lovely flowers in front and a backyard full of self-grown fruit? You are right about the backyard ...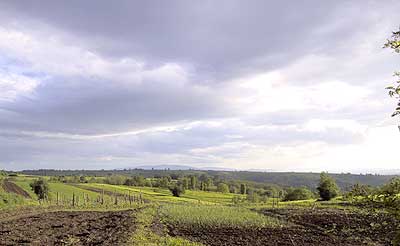 Landscape around Halovo
The parents and A. ride the tractor out to the "garden". Jovanka, P. and I walk two kilometers across the fields. And suddenly I know what's so different to home: There are no wires, no fences. There is nothing that keeps you from walking for hours over the fields. The animals are usually either tied to a picket, have to stay in a stable in the backyards or go for walks around the village by themselves.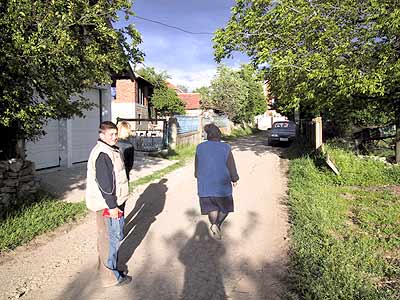 Street in Halovo.
The "garden" is a tiny house with two small rooms in the middle of nowhere. There is nothing around but fields. No noise, no street, no car - just the birds and the dogs. P.'s parents have lived here for seven years. No running water, no electricity, no heating, no washroom. Walls and a roof.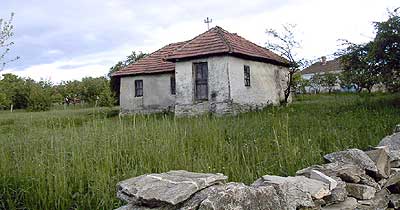 Nobody lives here anymore
For lunch we eat what we eat every day: Delicious homegrown food. Cheese, peppers, salad, different meats, bread. "Aide da jedemo", I call the family to come for lunch.
P.'s dad comes back from the creek with "rak" in his hands: small crayfish. In the afternoon I find a turtle in the woods. "Take it home!", Jovanka once more wants me to carry everything home that I like. "Jovanka! I can't take a living turtle home! It's illegal to export them. And it wouldn't be fair to the poor animal."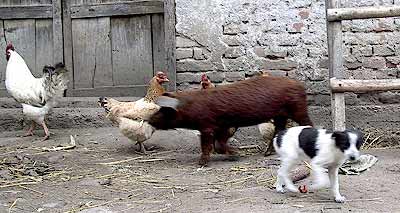 The little red pig loves to be cuddled behind the ears and on the belly. I soon started feeding sheep, pigs, hens and geese.
While the family works on the field I am not allowed to do anything. A. is too scared to bring back the rak to the creek by himself so my new friend Epi - one of the dogs - and I keep him company.
No fences
In the evening we ride the tractor back into "town". The Bulgarian border is only 500 meters away. "But you are not allowed to cross it here. Do you see the towers?", P. says.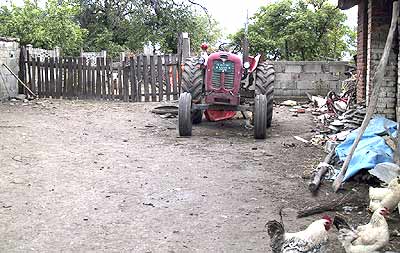 The old tractor
Later in the evening the entire family shows up. Jovanka's parents, her brother-in-law, P.'s parents, Aunt Gina and her sister-in-law and of course Jovanka, P. and A. Aunt Gina entertains everything and everybody. Although she talks like a waterfall in German, her grammar is horrible and it's not always easy to follow her. She is what we call a Fuchs, a fox, in German. Clever and tricky. I was waiting all the time for her to ask me whether I would marry P. Just for the papers. But obviously I had placed my remark "I don't have an Austrian passport" just in time. "Ya want to marry Yugo, eh? If ya marry Yugo, he spit in ya mouth and ya speak Serbian!" "Živeli - Cheers" we open the bottle of Slivovic.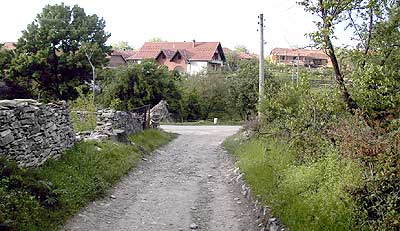 Halovo
<--
Day 3, 08.05.04: Zaječar
-->
Day 5, 10.05.04: Going to Bulgaria