Day 5, 10.05.04: Going to Bulgaria
Sa, 15. Mai. 2004, 20:30 in '
BG
'
"I want to go to Bulgaria, too, pleeeeeaaase", A. was insisting for three days to join us .
"You have to go to school. Novala, what do you think?
"Let him go. He only sees his mother twice a year."
"Say thank you to Novala."
The schoolbus passes the house - A. is waving through the window. "Byyyye!"
I don't have the Green Card to go to Serbia with my car, P. doesn't have one for Bulgaria. Jovanka's brother-in-law takes us in his old Škoda. We are going to Vidin - the next bigger city behind the border. Approximately 70 km away from Halovo.

With each stamp in my passport it takes longer to get it back.
At the Serbian border the police takes my registration for Serbia out of my passport. When I enter the country again I either have to leave it within 24 for hours or buy another paper.
Desinfection - 2 Euro
Before we get to the Bulgarian border police the car has to swim through a huge puddle. "Desinfection - 2 Euro".
"Heey, do we seriously have to pay for driving through a puddle of rainwater and mud?"
"Yes."
Before we can cross the Bulgarian border we not only have to show the Green Card but have to pay again: "12 hours in Bulgaria - 5 Euro/person". Before we can hit the road we have to pay toll for that, too.
The same dirt
The rural area looks the same as on the other side of the border. The same dirt, but less cars. Farmers are out in the fields with donkeys and horse carriages.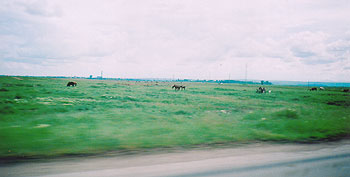 A. gets excited. He had never seen donkeys before. They graze everywhere.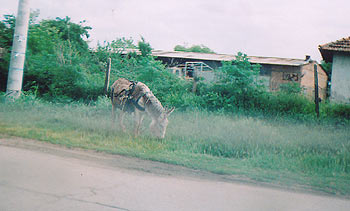 Vidin
We reach Vidin. 64.000 inhabitants. The urban area has more of a city center than Zaječar. The "Shopping Mall" is the market place. You get everything under the open sky: Digital cameras, cucumbers, cookies, bikes, toothbrushes.
The pedestrian zone is quite big. Streets are dusty, but when you enter a store you are almost in a western world. It's much cleaner than in Zaječar.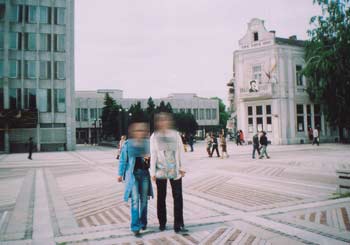 City center, Vidin.
The buildings, the designs though remind me of East Germany around 1989. Just more ruined and rotten. "Isn't it pretty", Jovanka says. "Ah ... yes."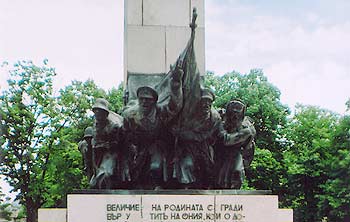 My knowledge of Bulgarian is limited. I don't know what it says up there.
Sasho - KAMERI!
While we are having lunch on a boat on the Danube river the Bulgarian Television is preparing a music video with a gypsy band. "Sasho - KAMERI! Ni dober!!" became a running gag.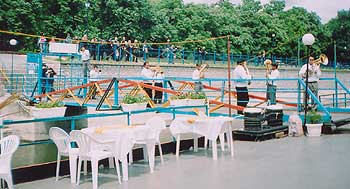 Sasho - kameri!
On the other side of the river is Romania, Jovanka pointed out. We'll go there next time.
It took us five or six hours to get back to Halovo. First we drove over a stop sign without stopping. There are no cars. Why stopping. But police has to keep itself busy.
Smugglers
We reach the boarder crossing. Only 12 cars ahead of us. That won't take long does simple-minded Novala think. After half an hour Jovanka and I go to the hole in the floor called washroom. Behind the house some women stick clothes tight to their bodies with masking tape and put other clothes on top. "They are selling the stuff on the markets in Serbia."
One hour, 20 meters
After one hours we move 20 meters. After another hour we move 20 more meters. After the next hour we are at the border control. They only let 10 cars in, the rest has to wait 100 meters in front of the border. Each car gets checked very carefully. Drugs, illegals, open the trunk, banging with screwdrivers.
"Why don't they use dogs?", I ask.
"Because one dog replaces three policemen."
"Why do they check the cars that LEAVE Bulgaria?"
"Ah, they are careful."
Three policemen repair one door
Meanwhile: Three policemen are trying to repair a door while the smugglers pass the border. The door is repaired. The door doesn't work again. The door gets repaired. The door doesn't work again. I'm watching this for two hours.
Jovanka: "That's communism."
P.: "Three people repair one door. It doesn't work anymore after one hour. They repair it again, it breaks again. In the evening they go home and tell their wife 'Oh, I had so much work! I worked all day!'
Four hours: That's nothing
I spot a big sign at the door: "Dear Ladies and Gentlemen, if you have any comments or suggestions about the border-control, please contact ..."
"Hey, should I call them? We've been waiting for four hours now!"
"Novala - four hours is nothing. I have already waited 1,5 days."
"Why didn't you go home in the meantime? Halovo is just across the border."
"Because the car would have been gone."
"A.: Do you want to go to Bulgaria again?"
"NO!"
<--
Day 4, 09.05.04: Halovo, in the garden
-->
Day 6, 11.05.04: Halovo -> Belgrade -> Ljubljana
novala
, Di, 9. Mai. 2006, 12:59
Some more about Vidin