Finito: Motorway Between Ljubljana And Koper
Do, 23. Sep. 2004, 10:25 in '
SLO
'
Fly to Koper: The motorway and the huge bridge are finished. Eight kilometers will be open for traffic from today. The bridge Črni Kal is 1.065 m long.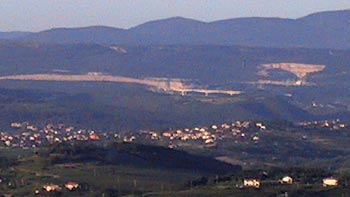 Where is the bridge?
Links
- The Glory of Carniola:
The Crni Kal Viaduct
[English]
- volksgruppen.ORF.at/slovenci:
Osem kilometrov dolgi odsek avtoceste od Klanca do priključka Črni Kal bodo danes predali prometu.
[Slovene]
-
Slowenien: Maut, Cestnina, Peage
[German]
- Sauseschritt:
fly traveller fly
[English, German]
moncay
, Fr, 24. Sep. 2004, 00:14
pardon, kollegin,
da hätt ich
etwas
zu ergänzen.
novala
, Fr, 24. Sep. 2004, 08:10
Merci!
Wie es wohl am Autobahnenede aussieht?
novala
, Fr, 24. Sep. 2004, 16:26
Voll
vermutlich. Oder man fällt ins Meer.