"He says what Vienna thinks"
Mi, 30. Mrz. 2005, 22:34 in '
A
'
Currently a new wave of disgusting posters poisons Vienna. The brown rightwing party FPÖ shows member HC Strache and the slogan "Vienna must not turn into Istanbul" and "He says what Vienna thinks".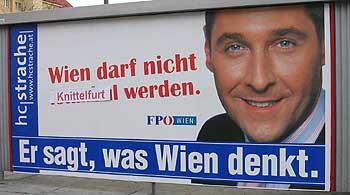 It's not just I who is upset by this next sign of contempt, but unlike quite a few other people I haven't been out to redesign the posters. (I'll try to take pictures of the other "re-designs") The one on the picture shows the sticker "Knittelfurt" over "Istanbul". "Knittelfurt" blends the names of the cities Knittelfeld and Klagenfurt. In Klagenfurt, capitol of Carinthia, the head of the FPÖ still is president of the federal state. September 2002 in Knittelfeld the FPÖ held a meeting of its delegates. It ended with new elections in Austria.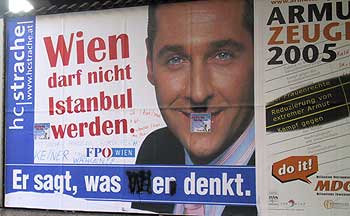 Here someone changed it into "He says what he thinks". It also says "With these slogans nobody is going to elect you anymore" on the poster.
Funny enough it says on the poster to the right "Armutszeugnis 2005". An Armutszeugnis means to show someone's or one's incompetence. The word itself means "proof of poverty".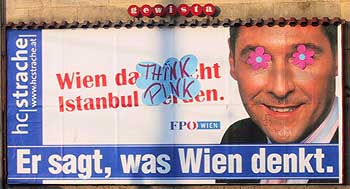 Think Pink
Another one at Südbahnhof has posters glued over it saying "The Islam is not your enemy".
moncay
, Fr, 1. Apr. 2005, 15:35
danke
für diese initiative. sauseschritt würde ihn so gerne ins nirvana der politisch vergessenen eingehen sehen.
novala
, Fr, 1. Apr. 2005, 15:41
Erschreckend sind die Poster
Ich war und bin immer noch fassungslos über so viel Verachtung und Respektlosigkeit. W i d e r l i c h.

Und als ob wir Ausländer nicht auch ein Stück Wien sind.
moncay
, Di, 5. Apr. 2005, 11:58
es scheint,
dass er ins nirvana eingehen wird ...................
novala
, Di, 5. Apr. 2005, 16:08
'Scheiß Strache'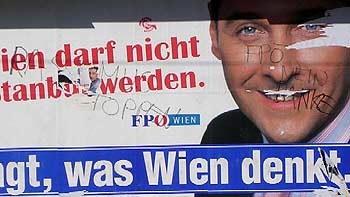 "Stop racism", "FPÖ - no thank you"
Let's hope the FPÖ and all its brothers and sisters and uncles and aunts and whatever they try to produce are history as soon as possible.
Thanks, Sauseschritt
novala
, Mo, 11. Apr. 2005, 08:06
"Vienna must not turn into Carinthia"
"Wien darf nicht Kärnten werden"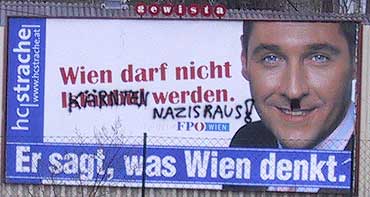 "Scheiß Nazis"