Sutjeska National Park
Fr, 18. Aug. 2006, 08:35 in '
BiH
'
As soon as I crossed the border of Bosnia and Herzegovina the country struck me with its beauty. Mouth wide open I sat in the car inhaling the incredible landscape. All I wanted was to jump and run through the fields, up and down the mountains, dive into turquoise lakes and lie down underneath a tree chewing on a piece of bosnian sausage.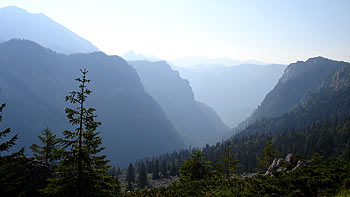 You can of course do all this - if you know where you don't step into a landmine and if you find the paths at all. There are no maps. To do all this and to spare me the landmines I asked somebody to show me a place where I could jump and run through the fields, up and down mountains and dive ... I even got the bosnian sausage.
Green Visions
If you want to do all this, too, Green Visions is the place to go. This Sarajevo-based eco-tourism and environmental group organizes tours to various places in BiH. Check out their
website
. They take you on tours from a three hour walk up to a 10-days hike, got a hold of military maps and stick to strict safety rules. Their attitude towards nature and safety is excellent plus the folks are really nice.
We went for a day-trip to Sutjeska National Park.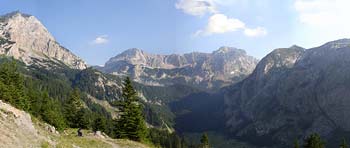 Click to see panorama:
sutjeska_xl_3
(jpg, 68 KB)
So one half of the National Park is in BiH, the other one in Montenegro. If you want to hike up to the lake - bring your passport. It may not be checked when you are up there with Green Visions, but you never know.
Odd border-crossing
This is the oddest border-crossing
I have ever seen
. The montenegrinian officer guards the border from his tent and also collects fees for being up there. It's not very much, so why bother.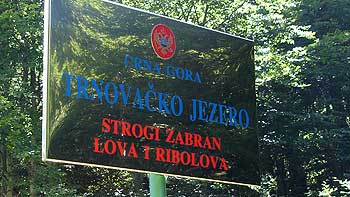 There is no BiH-border control. "But they are controlling the dirt tracks at the bottom of the mountains", Samir said. "They still want to know what's coming across the mountains."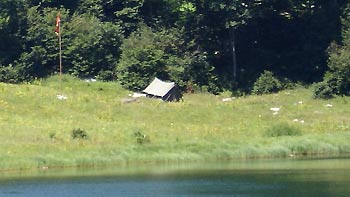 Trnovačko Lake - take a swim
Once you are up take a swim in Trnovačko Lake.
If you enlarge this picture you can see the two Mount Maglić. One peak is in Montenegro, the other one in BiH. It's BiH's highest mountain.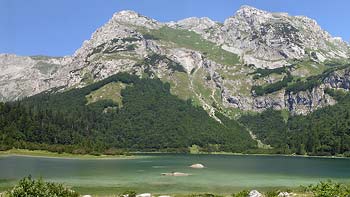 Click to see panorama:
sutjeska_xl_2
(jpg, 94 KB)
When you are thirsty drink pure, clean, and delicious water from the mountains.
Beware: Bosnia is addictive.
I see what you mean.
Really impressive indeed. Thank you so much for shattering my prejudice to pieces.
novala
, Fr, 18. Aug. 2006, 10:08
:-)
And there is still so much more out there!
quod
, So, 20. Aug. 2006, 21:17
Yes, even for Bosnians, were it not so I would not be in Sarajevo between 1992-1995, were it not so I would not return to Bosnia from England in 1970, after my studies... Bosnia is beautiful contry, and I am so glad you like it. Btw, Sutjeska used to be such a beautiful place some 30 years ago. I know the nature is beautiful even now, but from what I read, everything is very much neglected.