Border-Crossings - You are History!
Fr, 21. Dez. 2007, 06:35 in '
EU
'
A couple of years ago I started taking
pictures of border-crossings
. A lot of these photographs are already historical, since the border stations have long vanished.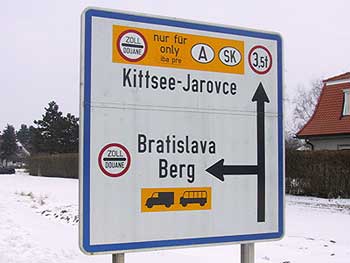 I assume that more will vanish soon: Tonight the Schengen contract was expanded to Slovakia, Hungary, Slovenia, the Czech Republic, Malta, Estonia, Lithuania, Latvia and Poland. It doesn't just make travelling more easy and faster - for someone like me who grew up in times of cold war and two Germanys the dimension of this is incredible. Not too long ago barbed wire separated us and now we can just freely walk over to the other side without even showing a passport. For those of you who tried to cross a border to the Eastern Block - you know what I am talking about.
Although I am gratefull and happy to welcome the neighboring countries to the Schengen area, I won't forget what would not have happened without these borders: I would never have met
Jovanka
during the
night of the EU-enlargement
.
She was on her way home from Innsbruck to Serbia by bus. She didn't know she needed a visa to cross Hungary. So the Hungarian border police pulled her out of the bus and sent her back to Austria. When I crossed the border in the middle of the night, the Austrian border police asked me to give her a ride to Vienna. And that's how my own personal Balkan story got momentum.
Yes, its a day of joy. The link to your previous story does not seem to work.

May I wish you and this nice and interesting blog a very happy holiday season and a good new year.
novala
, So, 23. Dez. 2007, 12:29
Link repaired. Thanks for the comment.

Merry Christmas to you, too and happy new year!