Donnerstag, 14. Juni 2012
Zem funny Ämärikens
Do, 14. Jun. 2012, 22:20 in '
US
'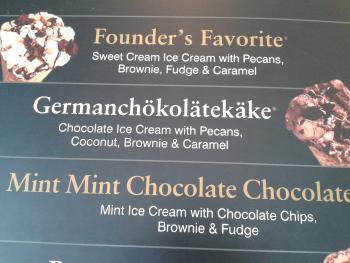 As seen near Harrisburg.
Montag, 30. August 2010
An American Family
Mo, 30. Aug. 2010, 18:07 in '
US
'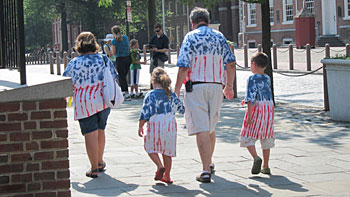 As seen in Philadelphia in July 2010.
Mittwoch, 4. August 2010
So this was New York
Mi, 4. Aug. 2010, 21:52 in '
US
'
So this was New York. Well, what is there to say about the Big Apple in July. It was hot. Damn hot. It was crowded. Also damn. This time I did Ellis Island and loved it. Revisited a couple of other sites and went to see Chicago. The musical, that is.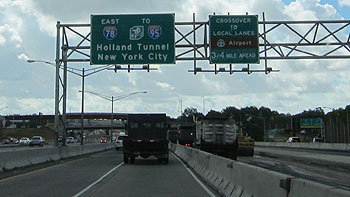 Coming from New Jersey by car, this is a possible view.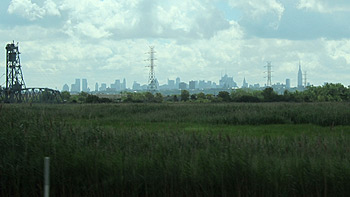 Manhattan.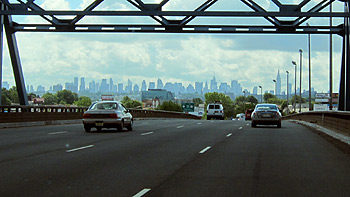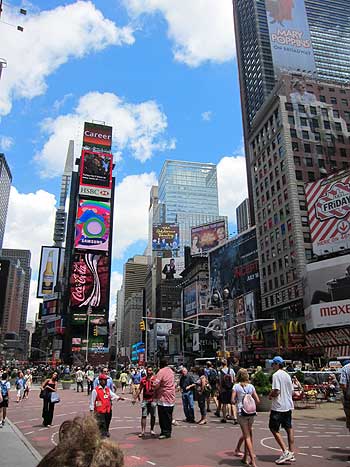 Times Square.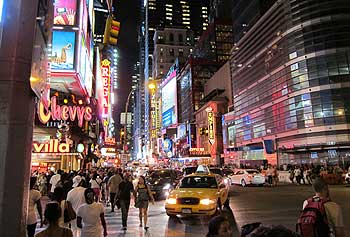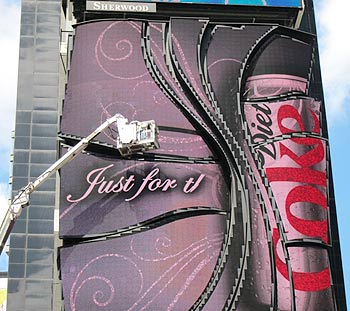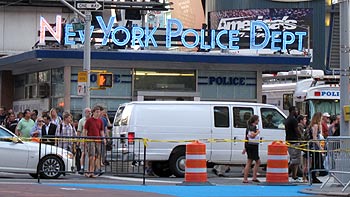 Police Dep. fully Times Square compatible.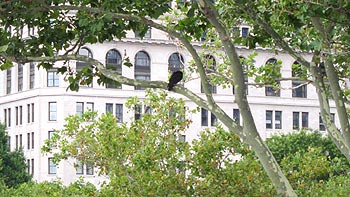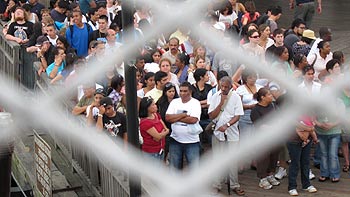 People are waiting for their ferry back from Ellis Island.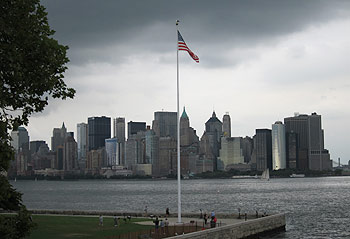 Manhattan from far.
Montag, 2. August 2010
I'm a Cowfish and I Live in Baltimore
Mo, 2. Aug. 2010, 22:20 in '
US
'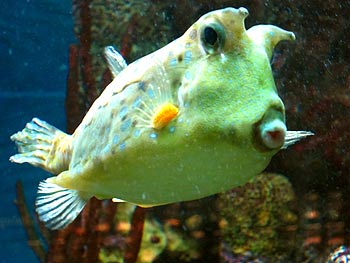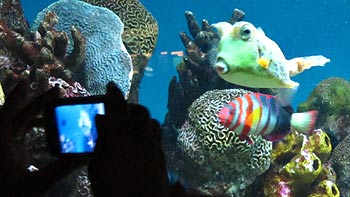 This guy here lives in the National Aquarium in Baltimore and was worth the visit in July. The Aquarium is nice, but a little overrated considering the ticket price.
The cowfish likes cameras. He follows them. As far as he can, that is.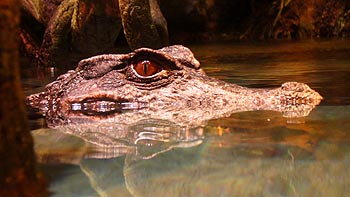 He is also around.
Link
National Aquarium
permalink (2 comments) comment
Dienstag, 23. Mai 2006
Travel Snippet #6
Di, 23. Mai. 2006, 22:58 in '
US
'
Seattle bus driver: "Oh, you know, Vancouver looks so European!"
Novala: "Yes, especially Chinatown."
Which reminds of a dialogue at dinner in
Spain
last December.
Colleague: "You should know that, you have studied German - what's 'hake'?"
Novala: "English."
Montag, 22. Mai 2006
Streetwise in Seattle
Mo, 22. Mai. 2006, 22:55 in '
US
'
Seattle motorways are so full of things I have never seen before.

Cell Phone Parking Lot
What a smart idea: When reaching Seattle Airport in Tacoma there are "Cell Phone Parking Lots" at the highway. "These are for people who don't want to pay for an expensive parking spot at the airport", the cab driver explained to me. "They wait way outside the airport next to the street at this Cell Phone Parking Lot. When the person they want to pick up calls them they get going again and let this person hop into the car. This way it's for free."

Busses and car pools 2+
Around Seattle there is a special lane on the motorways. It's for busses and car pools (more than two passengers) only. The sign "report violations" plus a phone number to denuniciate must have a reason, too.

Adopt a highway
Another sign on the motorway asks you to adopt a highway. Does anybody know how that works? Hug him every day? Stand at his bed when he is sick? Send birthday presents? Congratulating him for each extra mile he goes?
Freitag, 19. Mai 2006
What's the Drinking Age in Your Country? 30??
Fr, 19. Mai. 2006, 20:17 in '
US
'
Christoph and I went to this bar last night. It was actually a restaurant. We sat outside watching people sitting in
shiny cars
drive by and not smoking and not throwing cigarettes on the floor.
We ordered Caipirinha.
Waiter: "Are you 30 already?"
Novala: "Ohhh, you are sooo charming! Thanks for flattering me!"
Christoph: "Why do you ask?"
Waiter: "It's company policy. I have to ask you when you order alcoholic beverages. I mean if you are 28 I would give it to you anyways, but I have to ask. A lot of people fake their driver's licence."
Novala: "You have really made my day. Soooo charming!" (Get me my drink. NOW. The drinking age in my country is 16.)
We didn't understand his explanation. Is that some kind of a new U.S. law? Why 30?
But anyways … soooo charming!
Bellevue, Wash.: Eat From the Streets
Fr, 19. Mai. 2006, 19:46 in '
US
'
Bellevue is so clean, that you eat from the streets. I have never seen anything like that before. It's out of this world. But since there is nobody on the sidewalks nobody really has a chance to cause dirt. It seems people do everything by car. E v e r y t h i n g. It's like these science fiction movies where people drive around in shiny vehicles along wide lanes talking in beeps and boops. Maybe the shopping mall is so empty because shopping while you sit in a car doesn't work.

The cleanliness feels sterile, but sterile is better than the dog shit in Vienna. In Vienna you can't step out of the door or get out of the car before checking carefully what kind of smelly dirt will be sticking under your feet soon.
Donnerstag, 18. Mai 2006
Seattle
Do, 18. Mai. 2006, 16:41 in '
US
'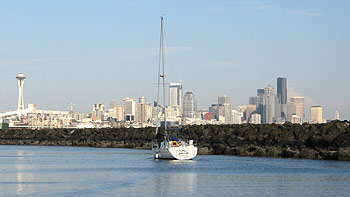 Click to enlarge:
seattle_xl
(jpg, 63 KB)
(Better pics coming up when I am home again. Don't have Photoshop on the laptop.)
permalink (4 comments) comment
US Immigration for Serbians
Do, 18. Mai. 2006, 06:50 in '
US
'
"Oh, that takes you a while", Nikola said. "I had to go through customs twice, took me 1,5 hours."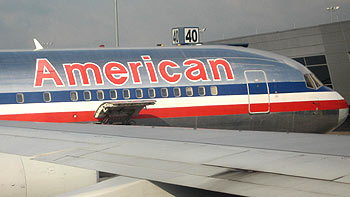 Getting a visa for a business trip to the States is everything but easy. "But you get it faster if you apply for it from outside Serbia." Nikola is currently working in Istanbul and only had to wait 10 days for his interview at the embassy instead of 1,5 months.
At the airport in San Francisco, though, they not only took his fingerprints and a photo. It must have been the inquisition itself. Nikola ended up in a separate room with one guy from India, on from Tunisia and one from Thailand. "You get used to this", the Indian said.
Their suitcases were taken apart. Suddenly an alarm went off. Police came in with machine guns, the employees left. But the owners of the luggage were not allowed to take cover. "If there had really been a bomb in there it would hit innocent passengers, because we had to stay where we were standing."
"You get used to this", the Indian kept on laughing and Nikola went to check in his luggage again and to answer the same questions he had just spent 1,5 hours asking before. "At least they let me in. It's more diffcult to get a visa for Italy."