Sonntag, 7. November 2010
Eau de Vie de Montenegro
So, 7. Nov. 2010, 21:54 in '
CG
'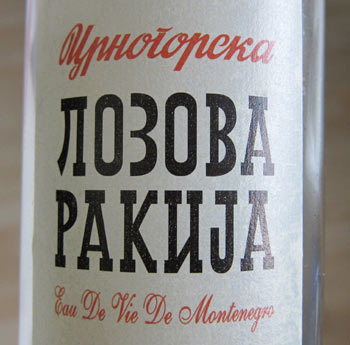 Only today I noticed the label on my olive oil bottle: Eau de Vie de Montnegro. My friend I. had brought me back two liters of the finest olive oil from Montenegro this summer. The oil millers often fill the oil into old and cleaned rakija bottles like this one. Eau de Vie - water of life.
Freitag, 21. August 2009
Life in Crna Gora
Fr, 21. Aug. 2009, 18:07 in '
CG
'
Food is expensive in Montenegro. With a few exceptions: When you get things that can be produced in the country these are very much affordable during the season. Like lubenica - the watermelon.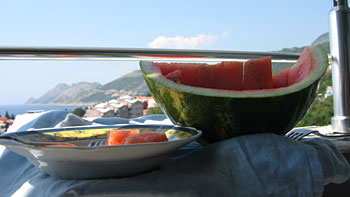 Figs actually aren't that cheap. Still much cheaper than in Austria, but not really cheap-cheap. But you can pick them yourself in the wild.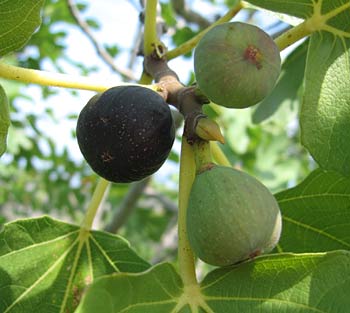 You can buy a lot of things along the road. Like Pršut from Njegoši - this whole piece costs about 75 Euros.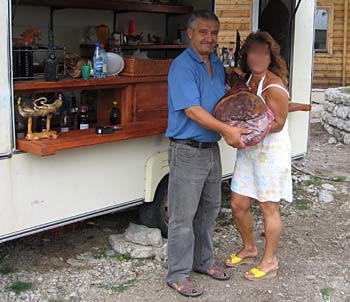 Mittwoch, 19. August 2009
Lovćen - Close to Heaven Again
Mi, 19. Aug. 2009, 09:07 in '
CG
'
I went to
Lovćen again
. This time we took the better road. Still quite a drive up on the mountain. When you know what to look for you can see the monument from far.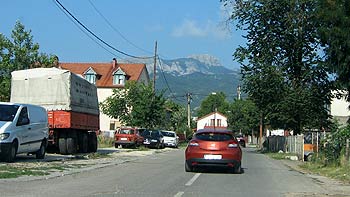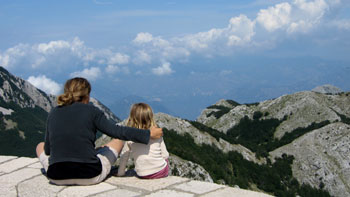 Here is a short video instead of a panorama pic:
We drove back over Kotor and took the long road down to the bay. There are some incredible views. It was a bit cloudy, but you get the idea:
Samstag, 17. Januar 2009
Ohhh, Montenegro!
Sa, 17. Jan. 2009, 21:44 in '
CG
'
"To je moja prijatelica Novala, ona je nemica ... (This is my friend Novala, she is German ...)" How many times did I hear these words in Montenegro when my friend I. introduced me to at least half of the country.
Today we visited the Holiday Fair in Vienna and dropped by at the Montenegro booth. No need to mention she knew the people there.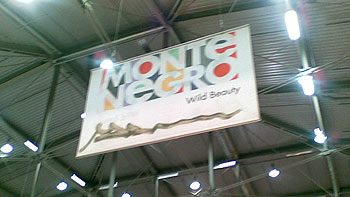 Her daughter F. was helping out at the booth for the weekend. "I really wonder how she does it", her mother laughed about F. explaining places to see to visitors, "she doesn't really know the country." Migrant kids's destiny?
Mittwoch, 11. Juni 2008
Brick-making in Dobra Voda
Mi, 11. Jun. 2008, 10:36 in '
CG
'
Each day outside the summer season is high tide for the brick-maker in Dobra Voda. "Yes", he said, "business is going well." Which I believe considering the huge amount of building sites.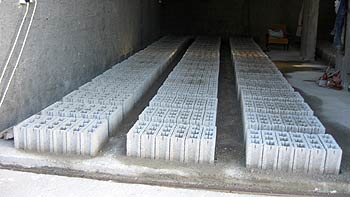 Then again - he doesn't have much more than these two spaces to produce and dry the bricks. I forgot to ask how many he can produce per day.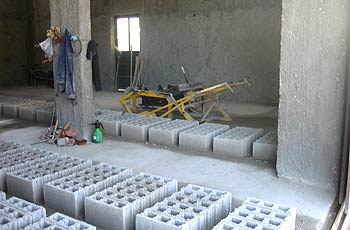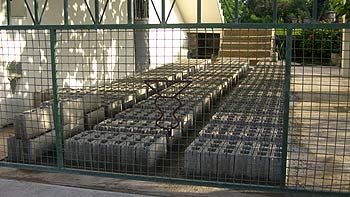 There is this machine where the concrete is made. Another machine spits out the wet bricks. Then they dry. And afterwards someone piles them up.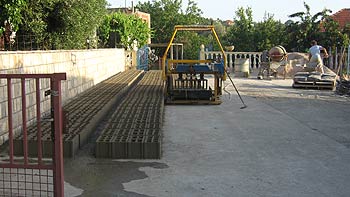 Dienstag, 10. Juni 2008
Montenegro: At the Gas Station
Di, 10. Jun. 2008, 14:07 in '
CG
'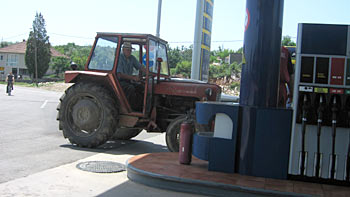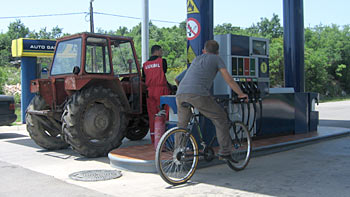 Montag, 9. Juni 2008
Construction Works à la Montenegro
Mo, 9. Jun. 2008, 08:04 in '
CG
'
The images are a bit small, but if you look closely you can see that the electricity wires are woven through the trunks that hold the roof.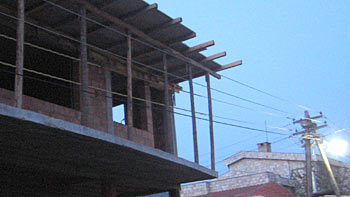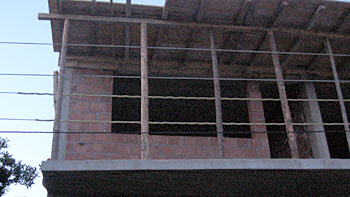 Sonntag, 8. Juni 2008
The Endless Beauty of Montenegro
So, 8. Jun. 2008, 12:50 in '
CG
'
Kosovo outstripped Montenegro in being the youngest state on earth. But that doesn't do the beauty of the second youngest state on earth any harm. Although pretty (and) small, there are so many worlds to discover in Montenegro.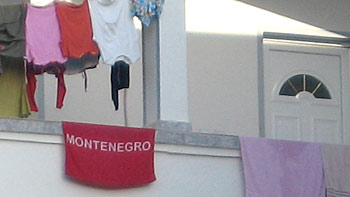 I took it easy this time. My friend I. buzzed around organizing all the construction work for her apartment, while I was relaxing. I actually managed to sit on the same spot for two hours.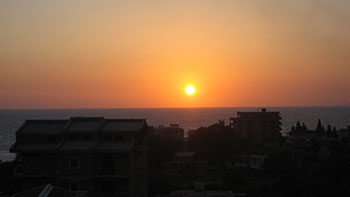 Besides driving from Dobra Voda to Ulcinj, from Ulcinj to Bar and back to compare tiles and finally order them ("There is a truck with 6 tons of tiles still in customs. We hope it arrives on in two days.") we also took time to discover more of the country. "I have been to most of these places", I. said, "when I was in school. More on trips to Podgorica, Ostrog, Skardarsko Jezero and the North to come.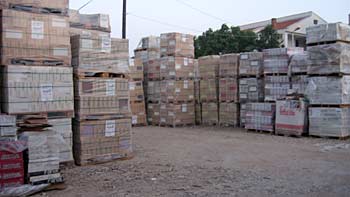 Tile store in Ulcinj
The number of tourists in May/June seems to increase. July and August are horrible for travelling to MNE - not for those who love croweded beaches, traffic jams and temperatures up to 40 degrees, of course.
Still quiet in Bar
15 June the construction works come to end by law. During the tourist season there has to be less dust and noise.
Streets have already improved a lot. They have to - the number of people cruising through the country is increasing.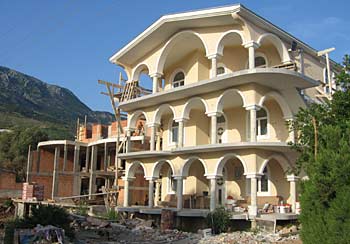 Balkan Baroque
I have never seen as many Russian and American licence plates outside of their countries. Property sales are going well. There might not be a single green spot left at the coast soon.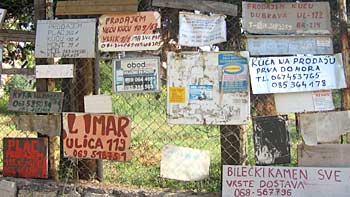 Houses for sale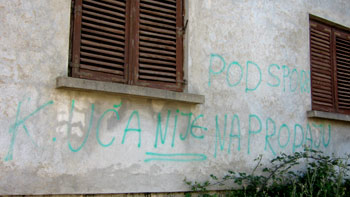 This house is NOT for sale
Times are good for everybody who is in the construction business: workers (from all over the Balkans), majstars, suppliers.
Grada Comerc - supplier
Times are good for me when I am down there. Should do it more often. The beauty of Montenegro and its citizens is sheer endless. More to come.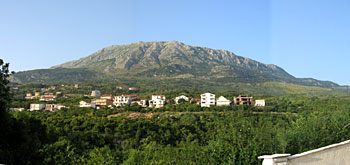 Freitag, 6. Juni 2008
Light Me Up, Montenegro!
Fr, 6. Jun. 2008, 14:37 in '
CG
'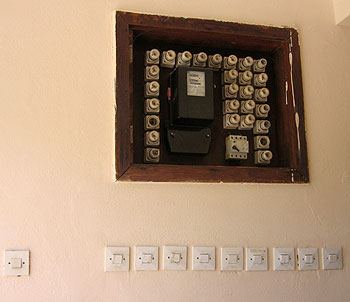 Before you can enter the small showroom to see the limited number of tiles, the sales guy in Ulcinj has to switch on each single one of these.
Dienstag, 3. Juni 2008
"The War is Over, When ...
Di, 3. Jun. 2008, 08:37 in '
CG
'
Croats and Serbs call each other brother,
Montenegrins grab the plough,
Slovenes spend the drink,
and Bosnians understand all this."

I am missing the Macedonians and Kosovars here. But then it might not count as a joke anymore.