Dienstag, 7. Juli 2009
Swedish Girl Fashion
Di, 7. Jul. 2009, 19:37 in '
S
'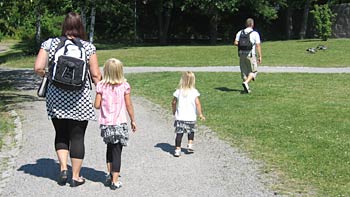 I don't know why that is - but in Sweden it seems that more than in any other country I know young girls and old girls dress the same. Right now it's the leggings-and-skirt/Tunika-style.
A friend told me that Swedish people try to be equal and on way to express this is that people all ages dress similar. (simplfied version)
Klipspringer: Please comment on that.
permalink (2 comments) comment
Montag, 6. Juli 2009
Stockholm's Waterfront
Mo, 6. Jul. 2009, 10:53 in '
S
'
Click to see panorama of Stockholm's waterfront:
pan_stockholm_m2
(jpg, 168 KB)
I am a sailboat lover. Not very many knew until this moment that sailing vessels make my heart jump. When I was a kid I could name every sail on a bark. If I were to live in Stockholm, I'd spend a lot of time at the waterfront.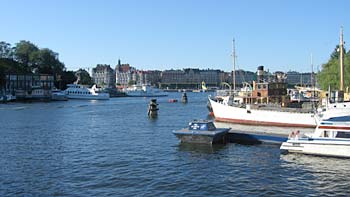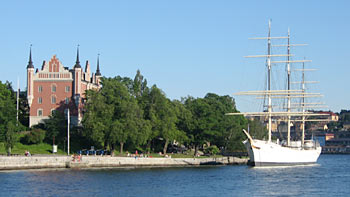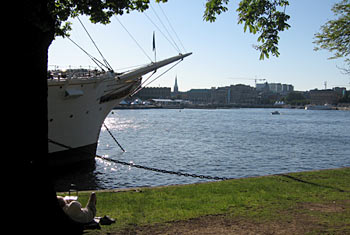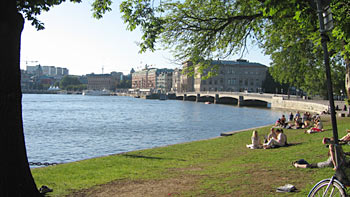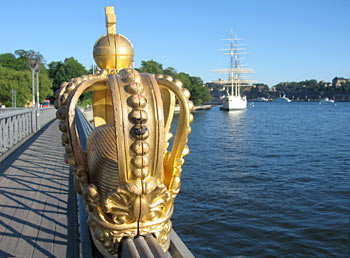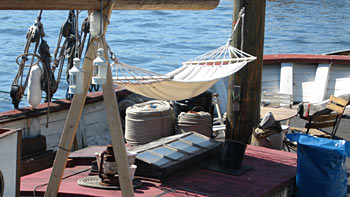 permalink (4 comments) comment
Sonntag, 5. Juli 2009
New Stockholm City Center
So, 5. Jul. 2009, 18:34 in '
S
'
The new center of Stockholm was described to me as post communist style. I agree. It partly reminded me of Bucarest and Dresden.
Demonstration square. I heard that this is a place where everybody can express his/her opinion in public. When I was there, Iranians demonstrated against the new government in Iran.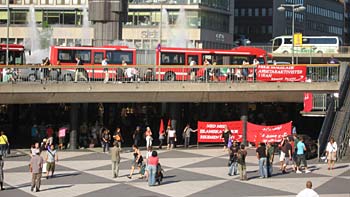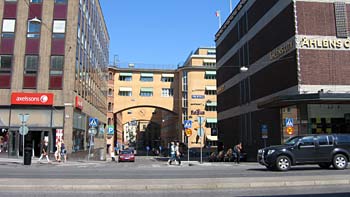 The main shopping street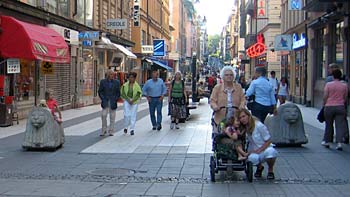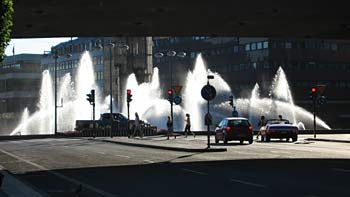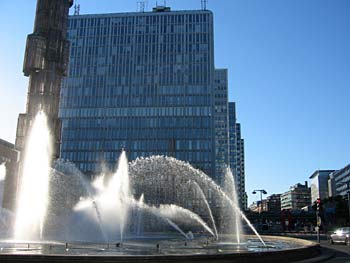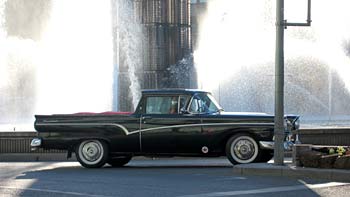 permalink (2 comments) comment
Samstag, 4. Juli 2009
Gamla Stan - the Old Stockholm
Sa, 4. Jul. 2009, 09:09 in '
S
'
Gamla Stan is the old, the medieval part of Stockholm. On this pretty little island you will find the royal palace, narrow streets, and zillions of tourists.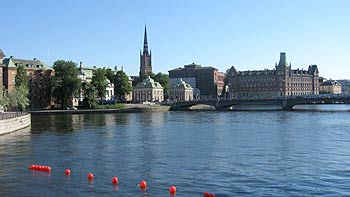 Click to enlarge panorama of Gamla Stan:
pan_stockholm_s1
(jpg, 221 KB)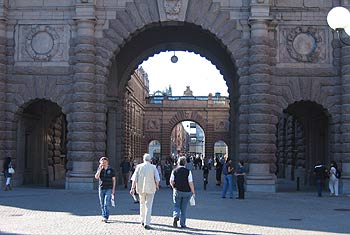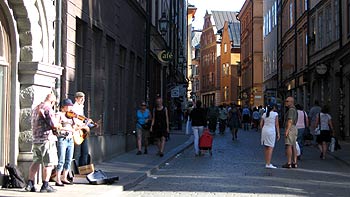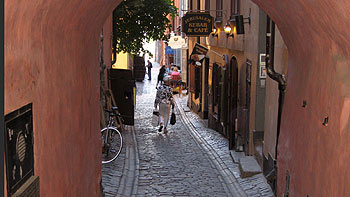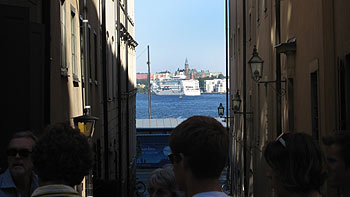 Why is it that in Stockholm benches are arranged as if people were in a movie theater? I noticed that elsewhere in the city, too.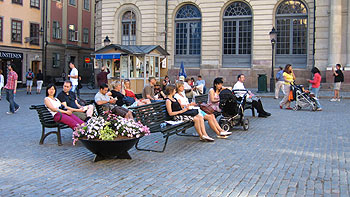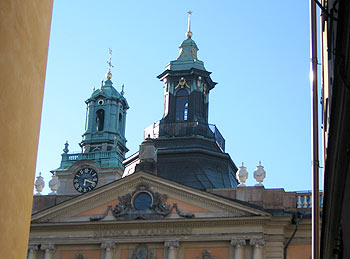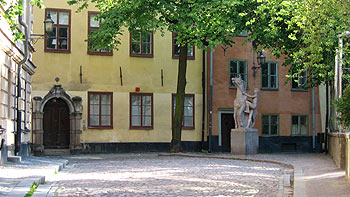 Click to enlarge:
gamlastan9_xl
(jpg, 197 KB)
Mittwoch, 1. Juli 2009
A Must-See: Vasa Museum Stockholm
Mi, 1. Jul. 2009, 09:37 in '
S
'
What I wanted to see in Stockholm the most - apart from Aleksandra - was the Vasa Museum. I wanted to know what a ship looks like that sank in 1628 after 1.5 km on its first journey and was found in 1956.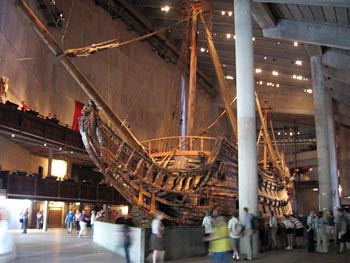 This ship is absolutely impressive and you will stare at it like the spectators watching it on its only trip hundreds of years ago.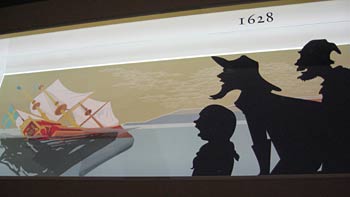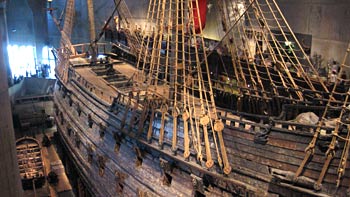 Beautiful carvings everywhere.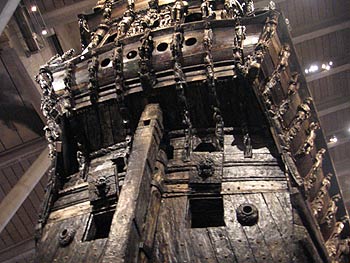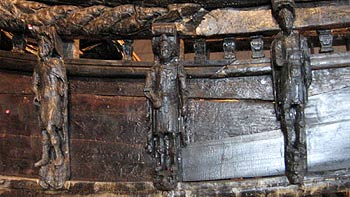 This a rather large miniature of the Vasa, showing it's assumed original colors.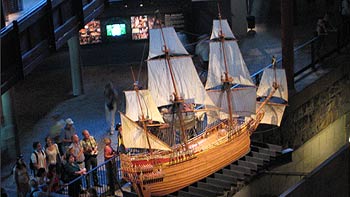 Even if you travel to Stockholm and see nothing but this museum, it will be worth it.
Link
Vasa Museum
Official website in many languages.
permalink (2 comments) comment
Montag, 29. Juni 2009
Sweden
Mo, 29. Jun. 2009, 22:03 in '
S
'
I had the opportunity to extend a business trip to Stockholm and stay over the weekend. Not only did I meet my dear friend Aleksandra from Niš, but also met a troll. More soon.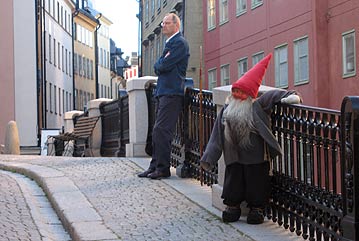 permalink (3 comments) comment