Donnerstag, 19. Februar 2009
No Story Brussels
Do, 19. Feb. 2009, 08:37 in '
B
'
I wanted to come up with a neat and dense story from my trip to Brussels. It was a good trip, but no story. I had hoped for strange experiences in the European Parliament or at the airport. Nothing. All I can tell you is that I wonder why there were posters at the security check at the airport saying "
I love my airport job
".
For the rest - some impressions of the European Parliament:
Entrance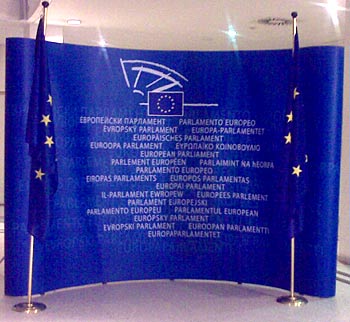 Building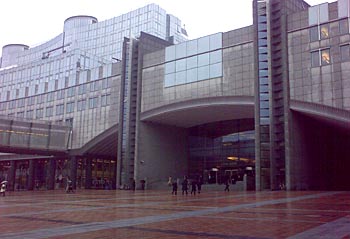 Art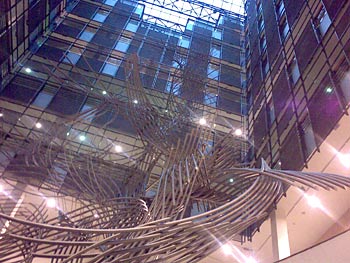 Montag, 11. August 2008
Most Wanted: Novala
Mo, 11. Aug. 2008, 19:37 in '
B
'
When I left my friends in Belgium last Saturday, their little daughter (4,5 yrs.) couldn't stop crying.

"I don't want Auntie Novala to leave!!!"
"But Tianshi - Grandma and Grandpa have to take her to the airport now."
Tianshi, sobbing: "They can take Dad and leave Auntie Novala here!"
permalink (4 comments) comment
Mittwoch, 18. April 2007
Wrinkle to Death
Mi, 18. Apr. 2007, 08:36 in '
B
'
All over the EU you find cigarette packages with large signs saying "Smoking kills", "Smoking makes you impotent", "Smoking harms people around you", "You never make it into heaven if you smoke" etc. in the local language/s. These packages have become collectors items.
For the first time ever I saw them with a picture. This Belgian package (in Flemish, French and German, since these are the official languages of the kingdom) showing a wrinkled apple says "Smoking let's your skin age". (old German spelling. Didn't know Belgium doesn't use the new one)
Brussels airport, btw., is 100 % non smoking area.
permalink (5 comments) comment
Dienstag, 10. April 2007
Belgium - "The Heart of Europe"
Di, 10. Apr. 2007, 07:33 in '
B
'
"The Heart of Europe" - that's what Belgium calls itself and even demonstrates it on a traffic light. I just wonder why it's the red light and not the green one.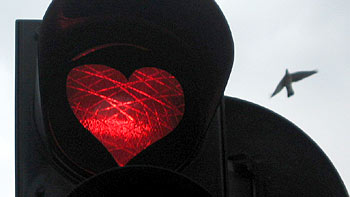 Right now there is an exhibition in the Centre for Fine Arts in Brussels about the visions of the world of Chinese and Flemish masters. You can still visit
"The Forbidden Empire"
until 06.05.2007. Beautiful pictures, although a lot of comparisons were a bit far-fetched.
We brought our own piece of Chinese art - Tianshi. I had the impression some people thought she was part of the exhibition.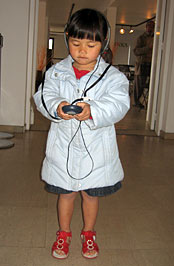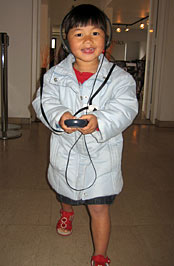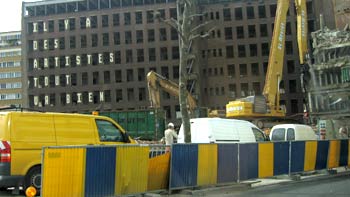 "Il y a des artists et tout va bien". Hm.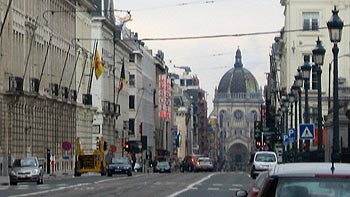 Cathedral.
In Brussels you can also visit the exposition "Earth from above" by photographer
Yann Arthus-Bertrand
. The pictures and the world to walk on were
in Vienna
a couple of years ago.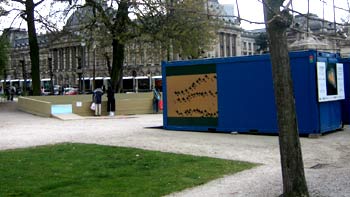 Easter Sunday the Easter bunny dropped by and a few things off for the kids. It was a bit difficult keeping those two Ferraris from kicking each other off the road, but the adults were stronger. No bloodshed.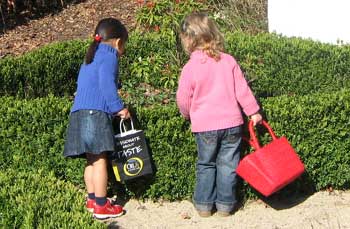 I had been wondering how Tianshi and I could communicate since her German and my Flemish are limited. Well, she quickly picked up her first German words and I figured her and my Flemish vocabulary aren't that far apart.
She sat on the back of my bike counting "paardjes" (horses) and made up all kinds of songs.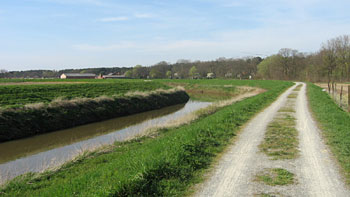 The landscape between Brussels and Antwerp looks very similar to my home region in Northern Germany. The habit of using bikes and actually having bike paths that deserve the term are s.th. I miss. And the big, big skies. And the daylight - it gets dark an hour later than in Vienna.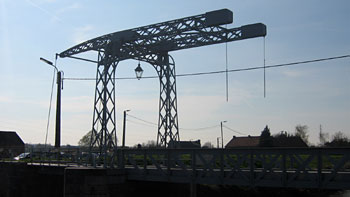 An old bridge across the canal.
permalink (2 comments) comment
Montag, 9. April 2007
Fly Schnitzel
Mo, 9. Apr. 2007, 00:53 in '
B
'
With low cost airline to low cost food (if it's a fake Schnitzel and not made of veal). After having waited half an hour at the check-in it was finally my turn - and the computers broke down. Guess what happened ... nothing, of course. Nothing for five minutes. Then they started writing boarding passes manually.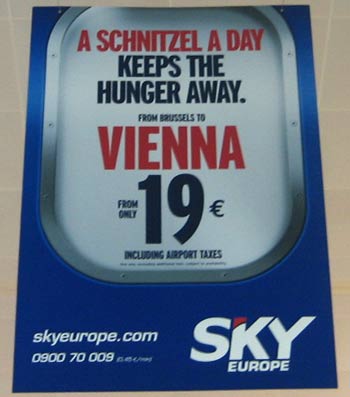 permalink (2 comments) comment
City With B: Brussels
Mo, 9. Apr. 2007, 00:23 in '
B
'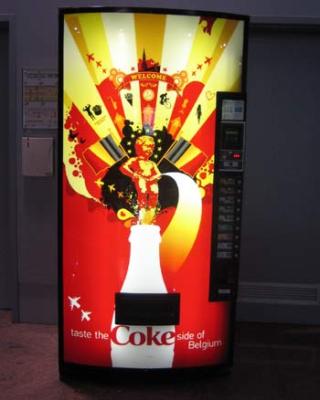 I met this young man adding flavor to Coca Cola in Brussels today. Could resist trying it.
More on places with B in chronological order soon.