Mittwoch, 14. Dezember 2005
Help Me, Please
Mi, 14. Dez. 2005, 17:10 in '
SP
'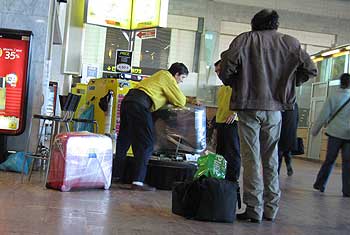 Maybe somebody can explain this to me: At Barcelona International Airport friendly men wrap suitcases in plastic. 4,50 Euro per wrapping. The plastic is supposed to protect your luggage from damage. The suitcases are wrapped before people check in. If security scans your luggage and decides to take out the bombs, the cocaine and the dried alligator - the 4,50 are for the fishies?
permalink (8 comments) comment
Montag, 12. Dezember 2005
Codorníu - in the Caves with 100 Million Bottles Booze
Mo, 12. Dez. 2005, 07:00 in '
SP
'
Codorníu ist the second biggest producer of Cava and first started to bottle sparkling wine in Spain. The winery near Barcelona produces about 100 million bottles a year sold into every part of the world.
The winery is 450 years old. The Codorníu family history goes back to the middle of the 16th century. Jaume Codorníu and and his family had their own machinery and equipment such as presses, casks and vats for viniculture.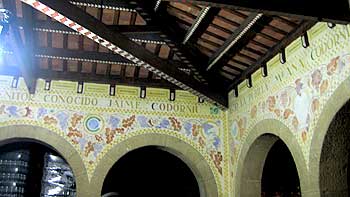 In 1872, José Raventós Fatjó produced the first bottle of sparkling wine in Spain by using the "Traditional Method". Today, after almost 500 years, Codorníu remains in the hands of the same family and is one of the most important wine producers in Europe.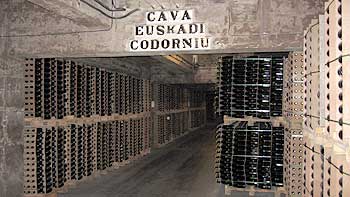 The Codorníu Group produces quality cavas and still wines and is composed of eleven wineries.*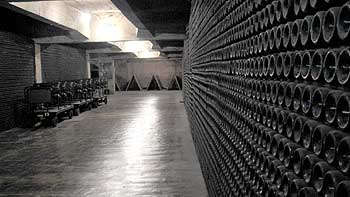 The bottles have to be turned by hand several times. The fermentation takes place in the bottles. When the sparkling wine has finished fermenting, the leftover stuff has to taken out of the bottles. They are put on their tops, iced and the top containing the fermentation is being chopped off.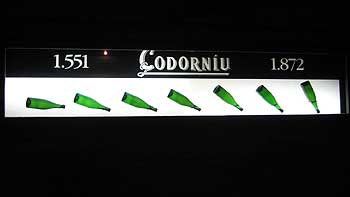 The roads down through several storeys of the caves are endless. They drive you around with a small train. If you lose your group you have enough booze for a while, but it may get cold.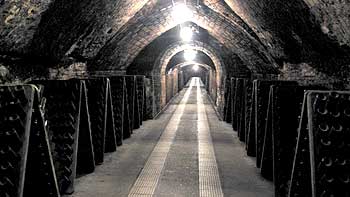 The modern part of the winery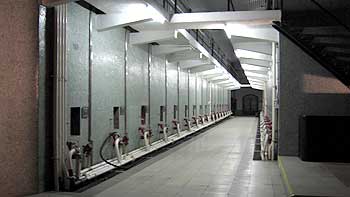 *All information taken from
http://www.codorniugroup.com
Freitag, 9. Dezember 2005
Good Morning, Sunshine
Fr, 9. Dez. 2005, 23:31 in '
SP
'
For those of you who need some sunshine right now these pictures might be helpful. In Sitges, Spain, it had 13 or 14 degrees today. This even made me forget the sorrow that I couldn't open my advent calender for two days.
Day 1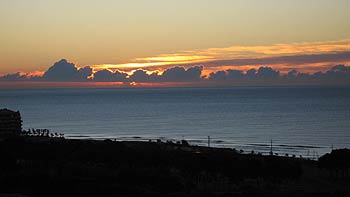 Click to enlarge:
sitges1_gr
(jpg, 55 KB)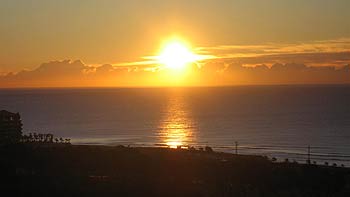 Click to enlarge:
sitges_gr
(jpg, 47 KB)
Day 2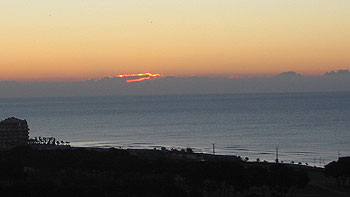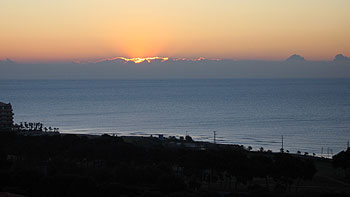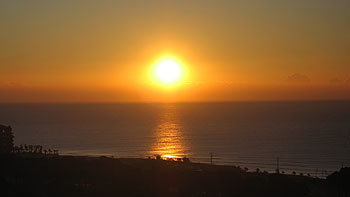 Panorama
Donnerstag, 8. Dezember 2005
Spain in Winter
Do, 8. Dez. 2005, 19:41 in '
SP
'
In case any of you envies me for being in Spain right now - don't. Sitting in a windowless conference room at the seaside only lets you imagine how beautiful the beach might be. The only thing I have seen so far are palm trees in the dark and a beautiful sunrise. Pictures coming up. And it's frigging cold near Barcelona. Even the palm trees here in Sitges are wrapped for the winter.