Dienstag, 7. April 2009
Znojmo - Znaim
Di, 7. Apr. 2009, 08:58 in '
CZ
'
Znaim is one of those places you pass on your way to Prague and never stop. Or you stop to shop in the outskirts, but never have a look at the inner city. I should come back another time.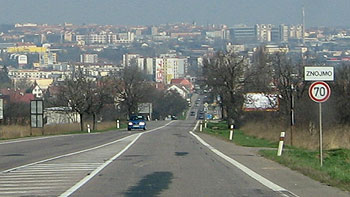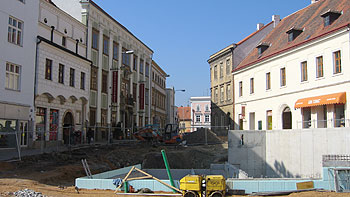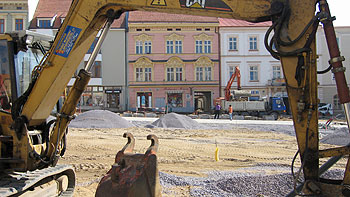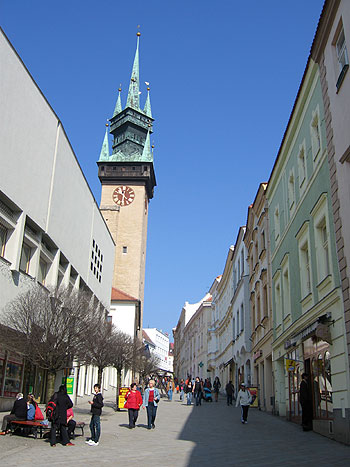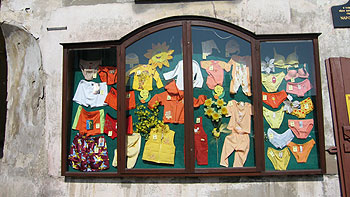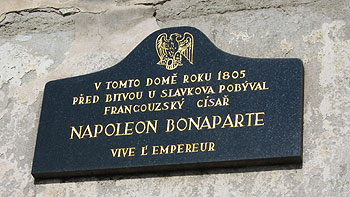 Samstag, 16. Februar 2008
Prague in The Dark
Sa, 16. Feb. 2008, 18:20 in '
CZ
'
The good thing about conferences is that you get to places. The bad thing about conferences is that you don't have much time for the stuff that really matters: seeing the place. You sit in a
conference room without windows
, listen to things you knew before and get fatter and fatter because the catering is the only stuff that keeps you alive.
Prague in the dark. Here you go.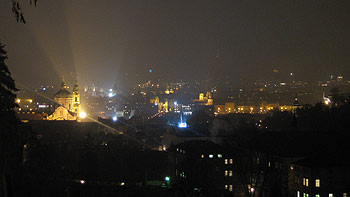 Click to enlarge:
dark1_xl
(jpg, 177 KB)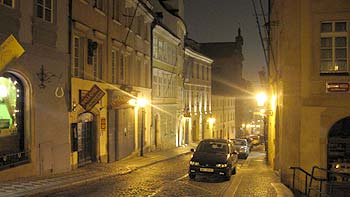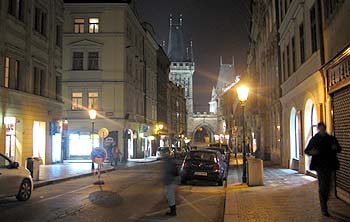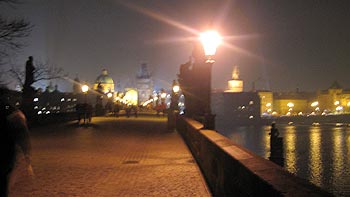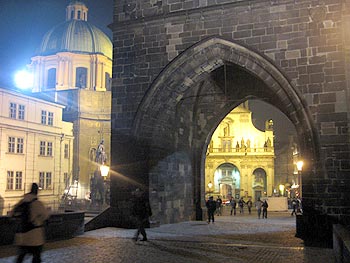 Click to enlarge:
dark5_xl
(jpg, 139 KB)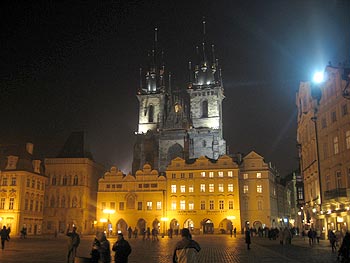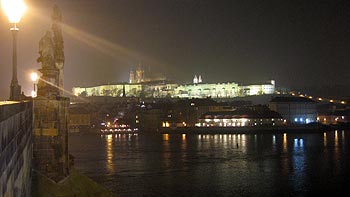 Click to enlarge:
dark7_xl
(jpg, 111 KB)
Montag, 28. Mai 2007
Odd Places: Grabštejn
Mo, 28. Mai. 2007, 18:18 in '
CZ
'
This place near Liberec (Reichenberg) close to the German and Polish borders is called Grabštejn, which means tombstone (~ grave stone). It's the German word Grabstein, spelled the Czech way. Odd name for a town.
Sonntag, 17. September 2006
Pictures From The Past: Prague 1929
So, 17. Sep. 2006, 21:12 in '
CZ
'
The sad task of going through
grandma's
belongings bring a lot of things to the light of day I hadn't seen before.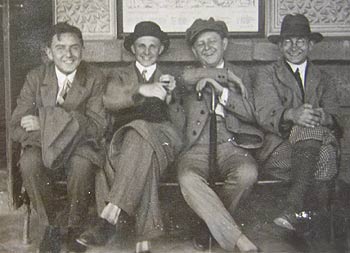 Grandpa's trip to Prague, 1929.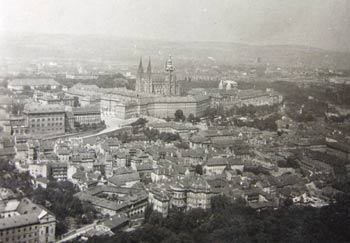 Click to enlarge:
prag_xl
(jpg, 93 KB)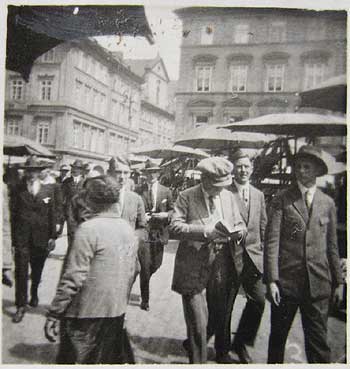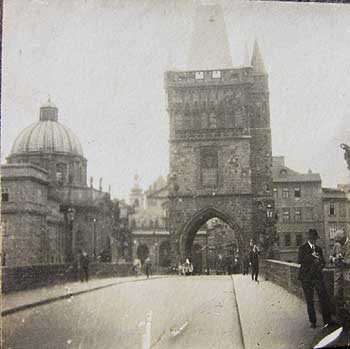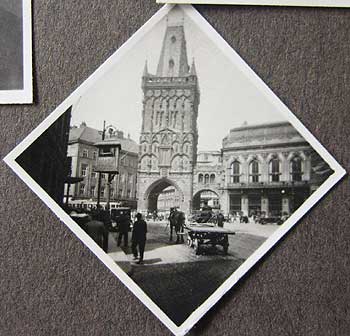 Sonntag, 27. November 2005
Slow - pomalu - langsam
So, 27. Nov. 2005, 10:53 in '
CZ
'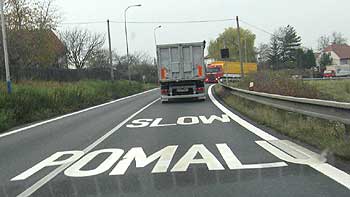 These letters are written onto the street in the Czech Republic close to the German border. I was wondering why they only wrote it in English and Czech, but not in German. Then again - "langsam" would have ended in the ditch.
permalink (3 comments) comment
Mittwoch, 23. November 2005
Going From Vienna to Dresden By Car
Mi, 23. Nov. 2005, 06:46 in '
CZ
'
Dresden is only 400 km away from Vienna. Almost a day-trip. It sure is - you just need a day to get there. Well, ok, that's exaggerated, but it is a real drag by car. If you go, take the train.
I went on a lonely Thursday morning. Not much traffic. I needed 6,5 hours to get to Dresden. And that was fast.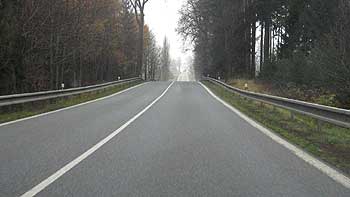 CZ: main road to Prague
There is hardly any motorway. At least not much more than maybe 100 km. The street from Vienna to the border is not that bad, because every few kilometers there are lanes for overtaking. The last few meters to the border the road winds up a hill and I bet you can spend hours here if there is heavy truck traffic.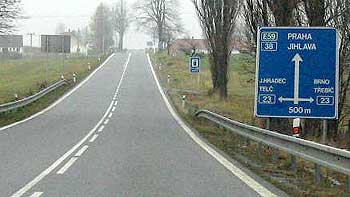 E59 close to Jihlava
There is a detour for international traffic in Jihlava. You don't have to take it. All the streets lead to Prague. It takes a while, though, until you see Prague-signs again. Just stay on the Europan road 59 and later take the 55 in Prague.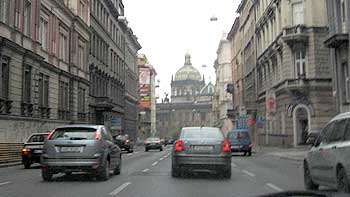 Prague
The motorway ends in the middle of Prague. Don't expect any signs "Dresden", until you get out of the city. Follow the signs "Teplice". That's the next bigger city close to the border-crossing Altenberg.
Exiting Prague
The closer you get to the border, the higher the number of prostitutes per square meter gets, the more women in lingerie sit in windows of little wooden huts. <silly pun>Must be really hot in there in summer.</silly pun> I wonder if it's possible for a girl to simply walk down a street there without being molested.
If you want to buy dwarfs for your yard, life-sized cows, horses, dogs and other plastic animals, screaming colored shirts or artificial flowers - this is your last chance. Once you have crossed the border to Germany, all that's left are the rusty remains of the dead mining industry.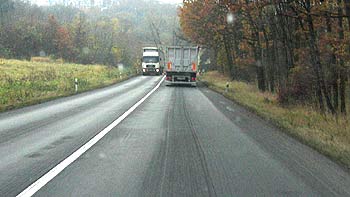 Main road to Germany
Tip: Don't forget to buy a
toll sticker
(at gas stations). You need it for the motorway and other bigger streets. A 15-day sticker cost me 6,70 €. 300 Czech crowns. You won't regret the donation.
permalink (2 comments) comment
Freitag, 11. November 2005
Where Was I?
Fr, 11. Nov. 2005, 19:28 in '
CZ
'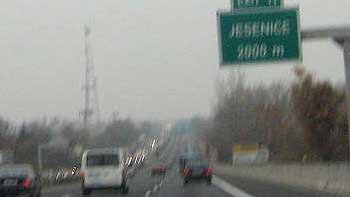 Take a guess: It says "Jesenice" on the sign.
permalink (3 comments) comment
Montag, 26. April 2004
Die versteckten Winkel Tschechiens
Mo, 26. Apr. 2004, 17:50 in '
CZ
'
Tschechien ist mehr als nur die "goldene Stadt" Prag. Im übrigen Land verstecken sich weitere Schätze. Die Tschechische Republik hat immerhin zwölf Kulturschätze der UNESCO anzubieten. Brünn, Krumlov, Mikolov - von Wien aus nicht weit. Gewusst? Schon gesehen? Nein? Sie auch nicht? Hinfahren, anschauen.
Link:
ORF.at:
Kulturtour jenseits der Grenze
Mittwoch, 14. April 2004
'Land of Lies' in no-man's land: Excalibur City
Mi, 14. Apr. 2004, 08:07 in '
CZ
'
When you cross the border at Klein-Haugsdorf on the Austrian side, you come up a hill. When you come down that hill again, you are in the middle of no-man's land between the Austrian and Czech border.
No lane for turning left
And suddenly a fairy-tale comes alive: Where you are not allowed to turn left (there is no lane for turning left and you are not allowed to cross the white line by car) a castle appears, dragons puff and blow, mermaids sit on foam and heroic knights on horses protect Excalibur City with swords and lances.
Mermaids never freeze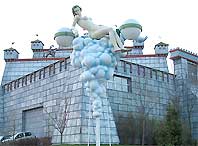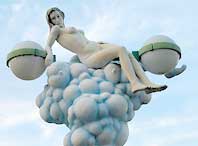 Nobody can stop us now
Your last proof of true courage is to cross the line, to turn left eye in eye with the Czech border-crossing ahead. But your wish to find the holy Grail is stronger. You have gone over narrow streets already, have passed a turnpike and police controls on an Easter monday - do they actually think someone who will lose his job soon can stop us now?
Dragons puff and blow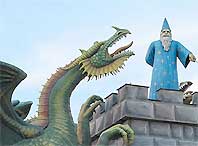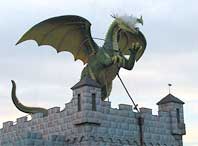 Becherovka: 8,95 Euro
We turn left and face Merlin, the old sorcerer. He shakes his magic wand and we are in duty-free paradise. 110 stores. The Freeport City of British origin has only opened its doors in fall 2003. Restaurants, liquor stores, fashion, crafts are open for you. One liter Becherovka: 8,95 Euro. ("Becherovka!!", my boss shuddered, "you really are a true German.")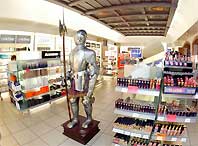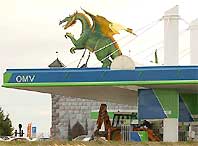 "Land of Lies"
Excalibur City, the paradise, the island, the magic place of duty-free shopping might be soon lost in the mists like Avalon. After CZ joins the EU, the Excalibur City has to give up the duty-free business. But Ronnie Seunig, the owner, is not afraid to drown. He now wants to build the "Land of Lies" Europe has been waiting for: Another fun-spa and entertainment park.
Ronnie Seunig obviously loves details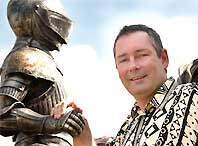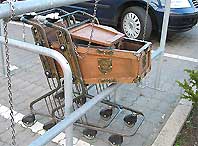 Cigarettes at Czech prices
"The truth is", Seunig said to
Wirtschaftswoche
, "that Excalibur City has not been built on no-man's land, but on Czech territory". After joining the EU, the City "will offer cigarettes at Czech prices". At the moment you are limited to import 25 cigarettes per person duty-free.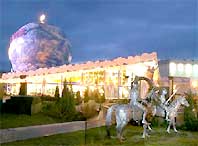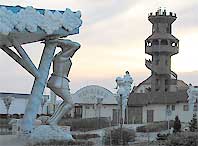 Nothing to declare
Strict controls? Was it another heart-breaking smile of mine and my "Could we have stamps into our passports, pleeease?!" that made them not even ask whether we had anything to declare? Maybe they just don't care anymore.
Link:
Excalibur City
[Thanks to Kitschtante for her company and some of the pictures. My camera unfortunately fell into coma on Easter Monday.]
Dienstag, 23. Dezember 2003
Freilandmuseum Prag
Di, 23. Dez. 2003, 15:13 in '
CZ
'