Seestadt Garden Spirit
Sa, 1. Mrz. 2014, 21:24 in '
A
'
While deer is still grazing near the contruction sites, next to the main runway a hamster is digging his tunnels through the vegetable garden. Once in a while he looks up and watches the rabbits chew pumpkin. This little oasis is part of one of the community gardens of
Garten Polylog
in
Seestadt Aspern
. A few squaremeters are going to be mine.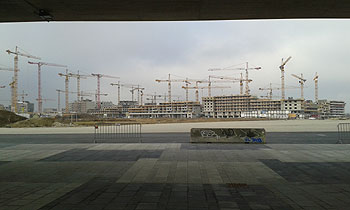 Out in Vienna's 22nd district there is a subway running around a former airfield that is currently being turned into a city for 20.000 people. By the end of 2014 the first ones are moving in. To get some life other than the hamster, deer and rabbits into the still empty Seestadt, a couple of initiatives put up containers on the runway and offered youth programms, events and this and that. Now the runway has to be cleared for new investors and the containers have to move somewhere else.
The community garden has found a new home near the Opel factory. Around the two nut trees a lot of work is waiting. The soil is not fertile enough and has to be prepared for the gardens, fences and the veranda need to be up, plants dug out and dug in, new ones planted.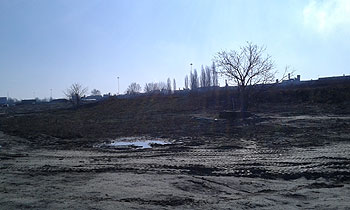 As odd as this place is - a garden between a car factory and a construction site of a new city - it made me feel that there is a spirit out there that deserves blogging (again).
Try to save some space for hamsters! I hope you will have some in your garden.
novala
, Mi, 5. Mrz. 2014, 20:45
I hope so!
novala
, Fr, 11. Jul. 2014, 21:32
We now have rabbits. And bee hives.
So, what happened in the last weeks?