Mittwoch, 1. Februar 2017
Ice floes on the Danube channel
Mi, 1. Feb. 2017, 06:45 in '
A
'
Finally, we are having a real winter in Austria again. I have never seen ice floes on the Danube channel before, though.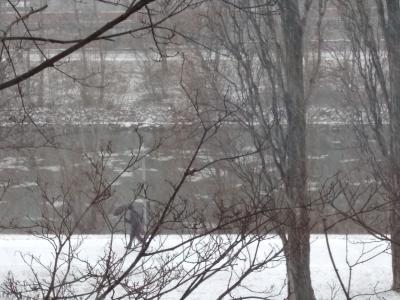 Sonntag, 4. Dezember 2016
Austria - I sigh with relief
So, 4. Dez. 2016, 17:45 in '
A
'
I did not expect van der Bellen to win this. Now please focus on reducing the 46 % to nothing, please
Freitag, 16. September 2016
Happy subway driver
Fr, 16. Sep. 2016, 09:16 in '
A
'
It's these moments when the morning sucks, you miss your subway stop, turn around at the next one and the driver greets the passengers with a super friendly "I wish you all a great morning!". When I got off I thanked him for that and earned a super big smile. Made my day!

He seemed to be really happy and enjoy his job. The driver also caught my attention because he is black. My first and sad thought was: "I hope there are no passengers who make his life hell because of his skin color."
Samstag, 1. März 2014
Seestadt Garden Spirit
Sa, 1. Mrz. 2014, 21:24 in '
A
'
While deer is still grazing near the contruction sites, next to the main runway a hamster is digging his tunnels through the vegetable garden. Once in a while he looks up and watches the rabbits chew pumpkin. This little oasis is part of one of the community gardens of
Garten Polylog
in
Seestadt Aspern
. A few squaremeters are going to be mine.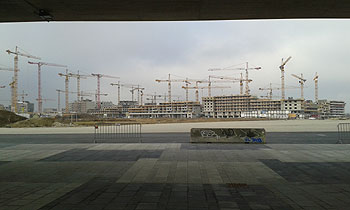 Out in Vienna's 22nd district there is a subway running around a former airfield that is currently being turned into a city for 20.000 people. By the end of 2014 the first ones are moving in. To get some life other than the hamster, deer and rabbits into the still empty Seestadt, a couple of initiatives put up containers on the runway and offered youth programms, events and this and that. Now the runway has to be cleared for new investors and the containers have to move somewhere else.
The community garden has found a new home near the Opel factory. Around the two nut trees a lot of work is waiting. The soil is not fertile enough and has to be prepared for the gardens, fences and the veranda need to be up, plants dug out and dug in, new ones planted.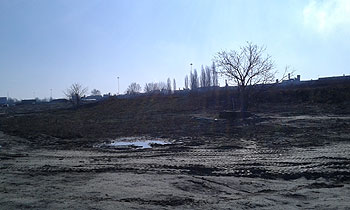 As odd as this place is - a garden between a car factory and a construction site of a new city - it made me feel that there is a spirit out there that deserves blogging (again).
permalink (4 comments) comment
Samstag, 1. Juni 2013
Love is not everything we need
Sa, 1. Jun. 2013, 22:55 in '
A
'
I walked back over the terrace into the house. And suddenly I saw a big balloon with a note on in in front of the door. No idea why I hadn't noticed it before. It says "Love is not everything we need" on it. True.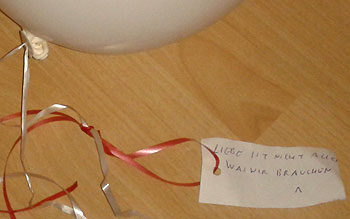 Sonntag, 16. Dezember 2012
Auch novala wünscht geschmackvolle Weihnachten.
So, 16. Dez. 2012, 21:55 in '
A
'
Weihnachten treibt seltsame Blüten
So, 16. Dez. 2012, 21:53 in '
A
'
Wien, Aspernstraße.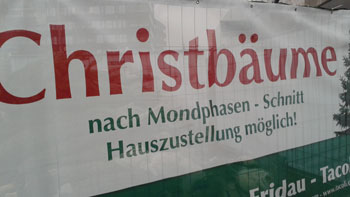 Dienstag, 30. Oktober 2012
It's All About Love
Di, 30. Okt. 2012, 21:38 in '
A
'
The other day in Vienna's Künstlerhaus Cinema: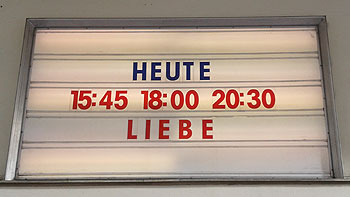 And in a restaurant I got my coffee with love.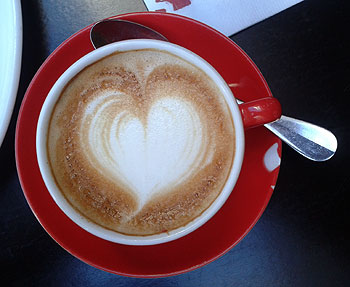 Freitag, 21. September 2012
Kindergarten: Preferably for Austrians
Fr, 21. Sep. 2012, 13:42 in '
A
'
Today, I chatted with another mum when we picked up the kids from kindergarten. We talked about how difficult it is to get a place at all. "Especially when you don't work - which I understand", she said, "but they could at least give the rest of the places to us instead of the foreigners."

I think she realized that very moment whom she was talking to and suddenly very quickly had to pick up her daughter.
permalink (3 comments) comment
Mittwoch, 9. Mai 2012
Vienna is Balkans
Mi, 9. Mai. 2012, 23:57 in '
A
'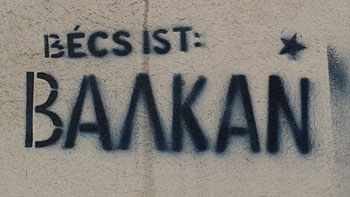 As seen in Vienna's first district.