Mittwoch, 14. Juni 2017
Boko Restaurant, Gevgelija
Mi, 14. Jun. 2017, 22:29 in '
MK
'
"You need to have desert", he said in Restaurant Boko in Gevgelija. I let him choose. And it was heaven.
I mean watch this: The waiter pours a hot cream sauce over a hollow chocolate ball. Almost hollow. It's half filled with some kind of nougat creme. Heavenly!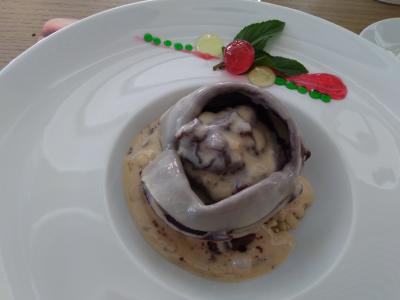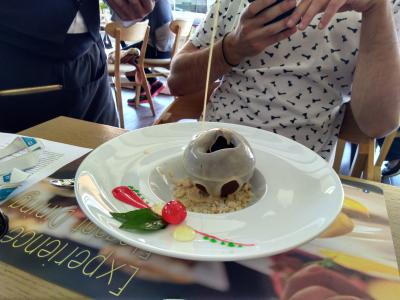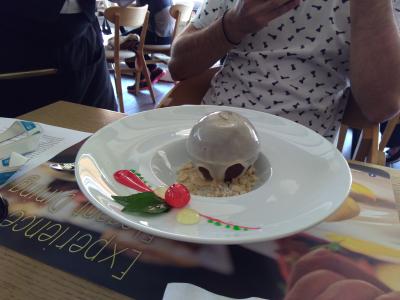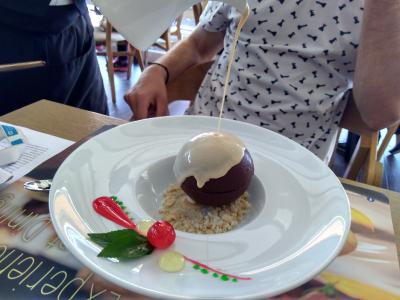 permalink (2 comments) comment
Old town of Skopje
Mi, 14. Jun. 2017, 22:16 in '
MK
'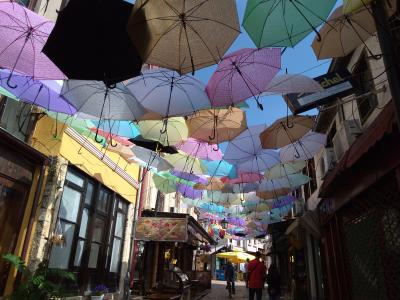 "Skopje 2014": A city has gone crazy
Mi, 14. Jun. 2017, 22:03 in '
MK
'
As you might have noticed I quite like the Balkans. Unfortunately, travels have become rare. The more I was delighted to get the opportunity to get over to Skopje again ten years after my last visit (see
MK
). I hardly recognized the city anymore. The project "
Skopje 2014"
has turned the city into a wannabee Disneyland. Fake history everywhere. It's not that it looks that bad (do not count the fake boats on concrete, though), it is somehow disturbing. Deeply disturbing.
The gigantomanic style of the monuments and fountains is almost communist.

Click to enlarge:
img_20170603_104152703
(jpg, 1.172 KB)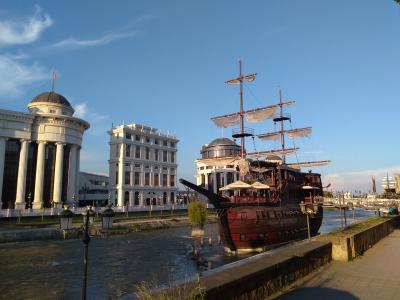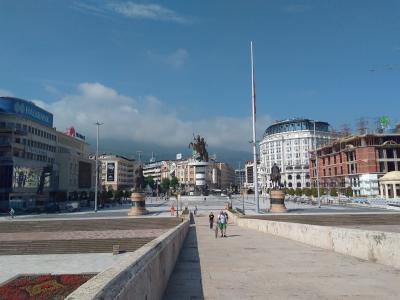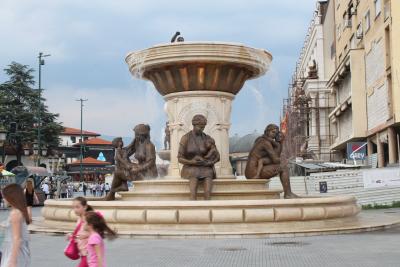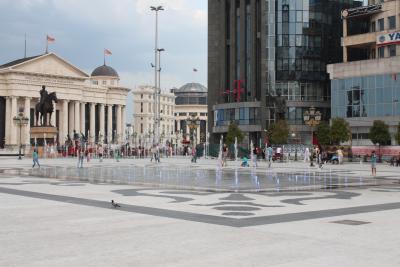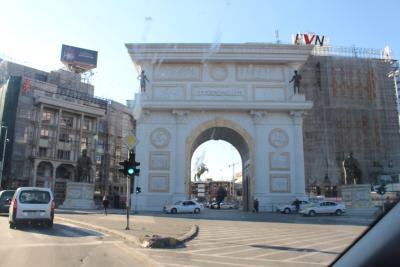 Click to enlarge:
img_20170603_090107317
(jpg, 1.186 KB)
Building fake history: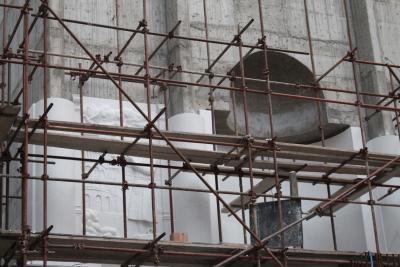 The butt of a warrior on a horse (or maybe Alexander, the Great)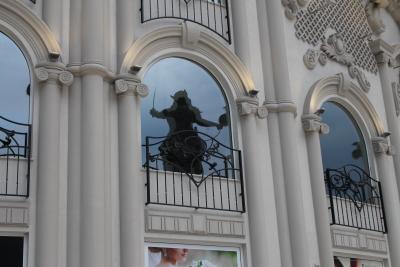 Donnerstag, 15. November 2007
International Skopje
Do, 15. Nov. 2007, 09:44 in '
MK
'
All over Skopje you find street signs in Macedonian and English and latin writing. What's a big - or rather no - deal in
Belgrade
, seems normal in Skopje.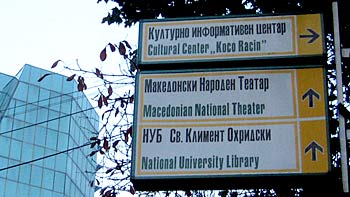 Mittwoch, 14. November 2007
No Need to Starve in Macedonia
Mi, 14. Nov. 2007, 08:42 in '
MK
'
Food galore in the the supermarkets in Skopje.
I always find it interesting to see what's available and different in supermarkets all over the world. Lots of meat and cheese in Macedonia.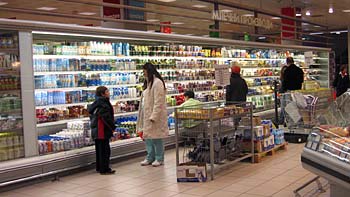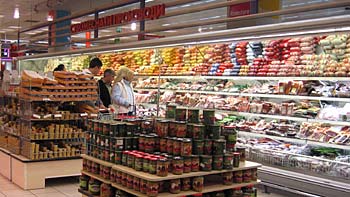 Especially impressive the 1,5 liter bottles of beer. I've never seen them that size before.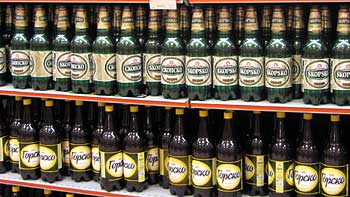 As in
Serbia
the Macedonians transcribe foreign names and titles. Harry Potter: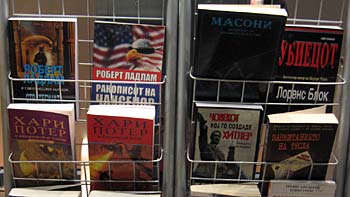 permalink (2 comments) comment
Dienstag, 13. November 2007
Picturebook Skopje
Di, 13. Nov. 2007, 08:41 in '
MK
'
Floods fell from the sky when we reached Skopje. The rain was actually the reason why we skipped Prizren that day. It would have meant walking around outside most of time. In the end Macedonia wasn't that much different and it cleared up in the afternoon.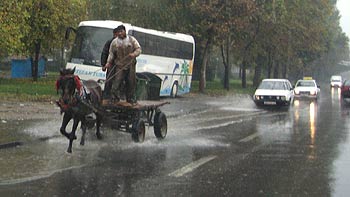 Riding the waves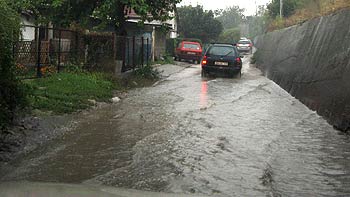 View over Skopje from the Turkish side.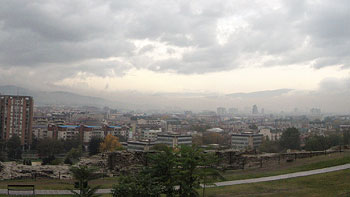 Click to see panorama pic:
skopje_xl1
(jpg, 84 KB)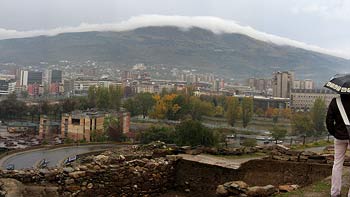 Click to see panorama pic:
skopje_xl2
(jpg, 108 KB)
According to
wikipedia
"The Millennium Cross situated on the peak of the mountain Vodno is a new tourist attraction. The cross should be finished in July 2007. At 66 meters high, it is one of the biggest crosses in the world and can be seen from 30 km away."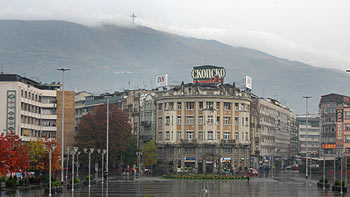 The cross is facing the Turkish side. Reminds me of
Mostar
.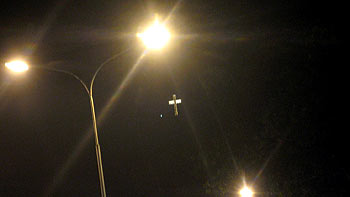 The brigde to the Turkish part.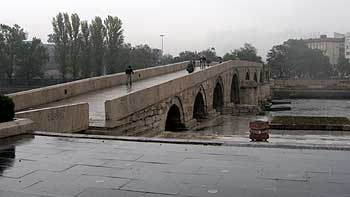 The old Turkish town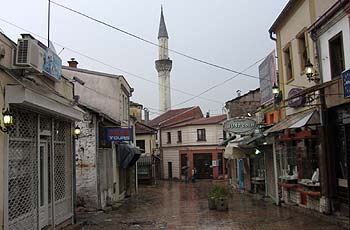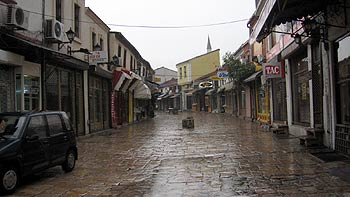 Internet Café.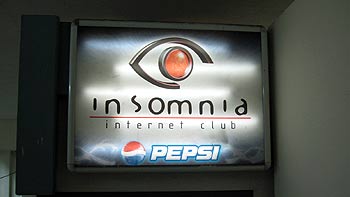 Flower power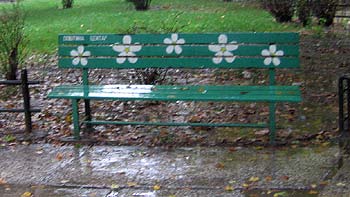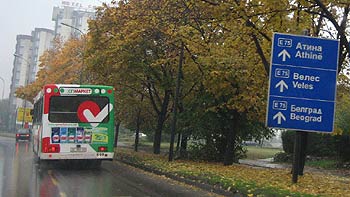 Ready for every weather.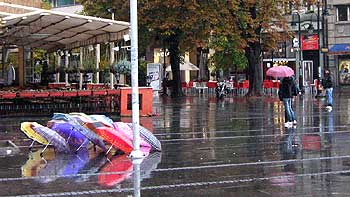 Link
More pics in
Mr. Moeller's blog
Montag, 12. November 2007
Toše Proeski Memorial
Mo, 12. Nov. 2007, 09:03 in '
MK
'
A couple of weeks ago 26-year old singer Toše Proeski died in a car accident in Croatia. He was not only a macedonian hero, but an idol all over former Yugoslavia. In Skopje a square meters of wax witness the carpet of candles lit for the popstar.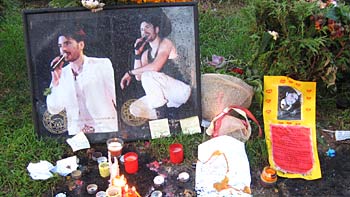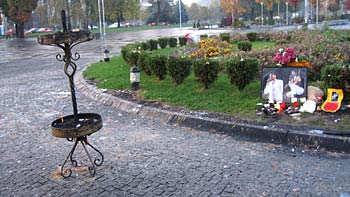 Link
Beyond Sarajevo about
Toše Proeski's death
Sonntag, 11. November 2007
The Clock and the Train station Skopje
So, 11. Nov. 2007, 10:04 in '
MK
'
"I want to see the clock", I announced my greatest desire when being in Skopje.
"The what?"
"Well, THE clock!"
In 1963 an
earthquake flattened Skopje
. The clock at the old train station stopped exactly that minute. The others had never heard of it. I wanted to see it, so we went to look for it.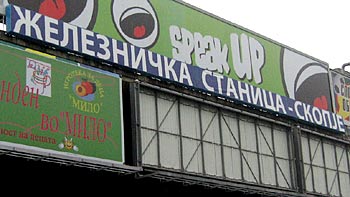 Želesnička stanica - train station. We were literally on the right track. At least we thought we were. Clocks and clueless people we saw many, but not the clock we wanted.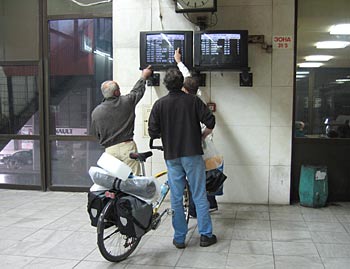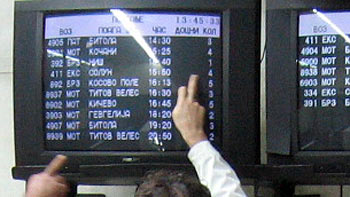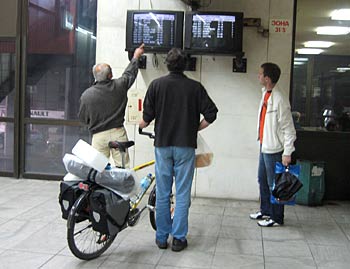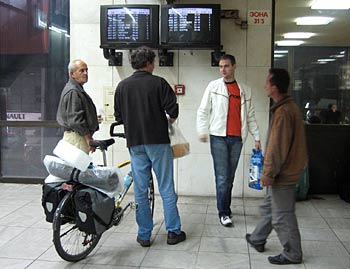 So we asked at the police station. Got funny looks and answer. "You need to go to the old train station. This is the new one."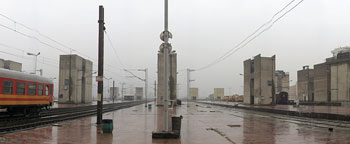 Click to see panorama platform:
skopje_bhf_xl
(jpg, 88 KB)
And here it is: the clock. In town. At the old train station. Which today is a musej, a museum.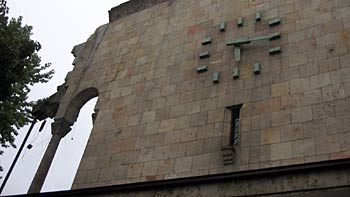 permalink (2 comments) comment